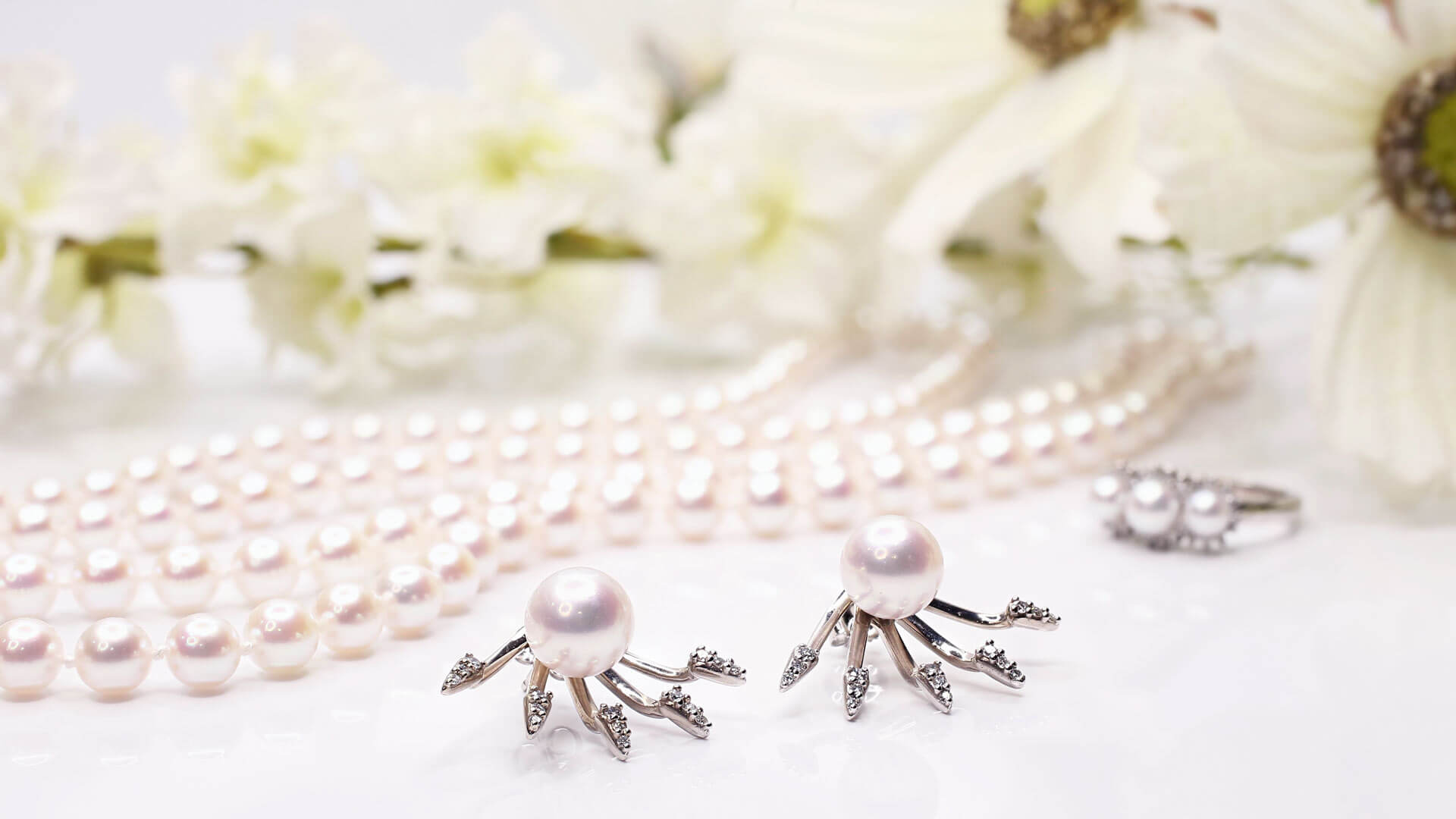 You'll almost always see pearls on someone's wedding day for a wide variety of reasons. Pearl jewelry is a timeless and classic look that displays elegance and can be matched with virtually any style – and what better gem to match your wedding day than beautiful white pearls? This gem is also a price-friendly fine jewelry alternative to some other precious stones and is excellent for gifting to coordinate your bridal party. Often there is a sentimental attachment, wearing family heirloom jewelry as your "something borrowed" on the big day. You may choose to highlight a piece of vintage pearl jewelry as part of a complete pearl set. For example, if your mother or grandmother has passed down pearl earrings, you may desire a new pearl necklace and pearl bracelet to match!
As a bride-to-be, there are a few factors that you must consider before you buy pearls for your wedding day. First, if you are going to wear your hair up, then you probably will not be looking for pearl earrings that dangle too much. Likewise, if you are wearing your hair down, you will want your pearl earrings large enough to be seen. If the neckline of your wedding dress is higher, then your pearl necklace will most likely also be higher up and fit more snug along your collarbone. If you wear a dress with a v-neck line, you can explore options such as a teardrop pearl pendants, or if you're wearing a scoop style dress, your options expand even further to include wider necklaces. The last thing you should absolutely know when considering your wedding day pearl jewelry is to be careful your pearl jewelry set combination does not end up competing with each other with clashing styles. If you have decided on a big necklace, your earrings may need to be less prominent, like a pearl stud. The inverse is also true: if you have large dangle earrings, then your pearl necklace does not need to be overwhelming. Longer pearl earrings pair well with similar lariat necklace styles. And, of course, if you choose to wear a pearl ring, it should never ever take away from your beautiful diamond engagement ring – pearl rings should be an accessory rather than the main focus.
Pearls are often used to help mark and celebrate a special occasion in one's life. Milestones are the most common time to see them- events such as baptisms, sweet sixteens, and even certain anniversaries – there's a reason your 30th year of marriage is called the Pearl Anniversary! When it comes to a wedding day, however, real pearl jewelry is often the most popular choice due to their versatility. In addition, you can easily match your bridesmaids if you choose to add pearls with your wedding attire. So, if your goal is to have a uniform and cohesive look for your wedding party, pearls are an easy way to ensure everyone looks their absolute best without breaking the bank.
Jewelry for your wedding has to be as special and unique as your big day, and with so many options and varieties, it's no wonder why pearls have become a high standard for brides when selecting their accessories. At Jewelry Designs American pearl source, we understand you want every aspect of your big day to be perfect: we're ready to help you find the best pearls for your wedding day.