Types of Appraisal Available
This is a written jewelry appraisal performed by one of Jewelry Designs' Certified Gemologists. This may be required by your insurance company, or simply to satisfy your own curiosity. It represents the current market value / cost to replace your jewelry. The appraisal process itself is completed at an hourly rate in-house. Your jewelry never has to leave the facility.
This is an in-person verbal estimate with a qualified Jewelry Designs' consultant. This service is best if you have multiple pieces of jewelry and you want to understand their overall worth, without the obligation of an official written appraisal. Your consultant will sit with you at an hourly rate and identify each piece of jewelry with you. This walk-in service is typically available Monday through Wednesday for up to one hour. Please call in advance to check these services are available for the week of your visit.
Jewelry Designs' Certificate Of Sale
Upon request, all fine jewelry made entirely with Jewelry Designs' materials may include a written appraisal. If this is something of interest to you, let your representative know upon placing any jewelry order with us.
Every few years insurance may require that you update your old appraisals to display current market value. At Jewelry Designs, Appraisal Updates are available for a small fee on jewelry purchased with us (using all JD materials), in addition to any jewelry you have had appraised with us in the past. To get started, just bring in your jewelry so we can assess the current condition of your items and update accordingly.
Why Appraise Your Jewelry?
There are a number of reasons that you may need a jewelry appraisal. If you are like many people you may just be curious and desire a casual estimate of the value of an item you own. If so, one of our staff can usually advise you on the approximate value of your item. This consultation is a simple estimate to satisfy your curiosity about the approximate value of a jewelry item, so we do it while you wait as free service for our customers.
In other cases you may need more than a casual over the counter jewelry appraisal. A casual estimate will not provide you with the valid jewelry appraisal documents needed for insurance. If you have valuable jewelry, you will want to protect it. The most common way to do this is to insure it. Many homeowners' policies have a provision to cover a portion of your jewelry. In order to attain full coverage it will most likely be necessary to add a rider to the homeowners or renters policy. Some people choose to insure jewelry separately through companies that specialize in jewelry insurance. In either event, most insurance companies require that a reputable appraiser provide a detailed, itemized appraisal of the jewelry to be insured.
Check with your insurance company about rates, deductibles and exclusions, because they vary. Many insurance companies will attempt to replace lost or stolen items through their own sources, rather than reimburse you in cash. It is very important that your jewelry appraisal lists enough detail about items to ensure that you receive a suitable replacement in the event of a loss.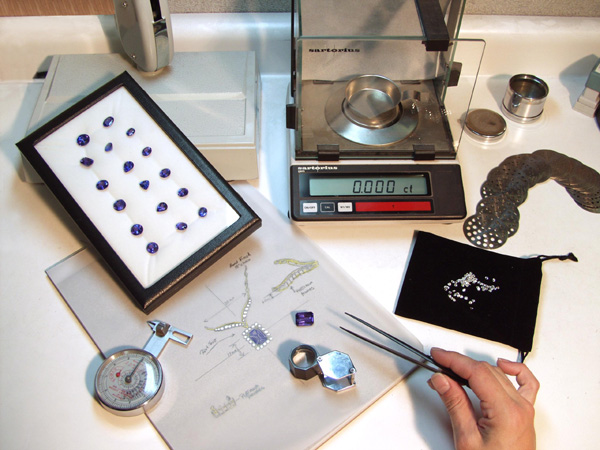 Jewelry Designs' Credentials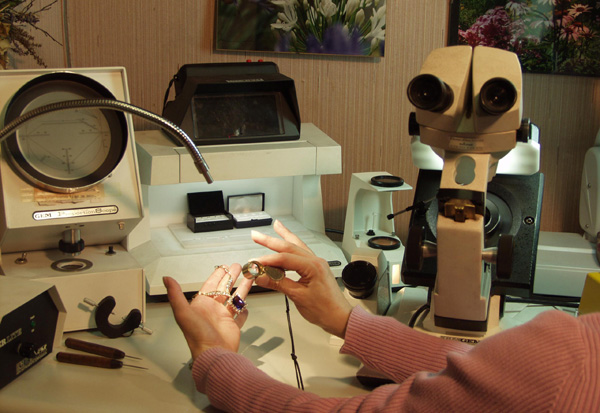 Karen Underhill, co-founder of Jewelry Designs, heads up our Appraisal Department. Karen has a Graduate Gemologist degree with the Gemological Institute of America, and has been an upstanding member in the National Association of Jewelry Appraisers since 1993. In addition to her credentials as an appraiser, Karen's activities as a buyer of gemstones and exposure to manufacturing techniques and antique jewelry gives her enhanced knowledge of material, labor, and period jewelry values.
If you need an accurate, valid appraisal of jewelry for insurance purposes, our gemologists can assist you with jewelry appraisals and gem identification. Appraisals are done in-house by our Graduate Gemologists in our laboratory and billed at an hourly rate. We maintain a secure database to ensure that any appraisals you may have can be easily updated in the future by simply allowing us to view the jewelry to confirm its condition and existence.
In order for us to appraise fine jewelry, it is necessary to bring it to our lab at Jewelry Designs in Danbury, Ct. Our staff will itemize the pieces and pre-establish general information about the materials, gemstones, and values of your precious jewelry in order to prepare a receipt of what you will be entrusting us with. We will also help you to sort through your jewelry to determine which items are most important to insure. An estimate of cost of the appraisal will be calculated based on an hourly rate.
Once scheduled, your valuables will be secured in our vault until the diamonds and gemstones are analyzed, metal is tested, provenance is established, descriptions are written, and values are assigned. During the jewelry appraisal process your items will undergo jewelry cleaning and inspection by our jewelers in our shop. Our completed document will satisfy the needs of your insurance company and will be retained in our system for simple future updates as required.