Stone Tightening & Replacement
If you need your stones tightened or prongs adjusted Jewelry Designs has professional stone setters on standby. If your precious gems or diamonds have been lost or damaged, we carry most of these replacements on-site. Maybe the gem you are looking for is more unique; our shop has an abundant number of resources from which we can acquire the perfect replacement. In some instances, we may have a stone custom-cut and fitted to your jewelry. Our jewelers will always check on the integrity of the prongs, channels, or any other metal holding your stones in place.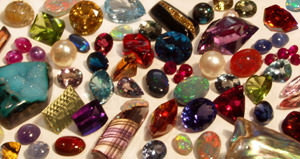 Setting With Jewelry Designs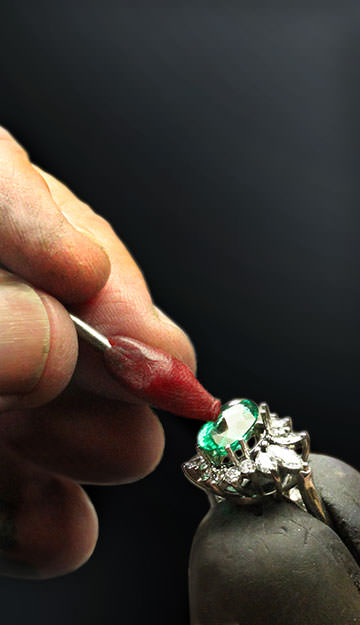 Of all the reasons to visit Jewelry Designs, seeing us for a stone replacement is possibly the most frustrating. With the exception of the person looking to upgrade, most are heartbroken at the thought of replacing a stone that was lost or damaged.
There are few things more distressing than looking down at your hand and seeing an empty setting. Your heart can skip a beat when you notice missing diamonds in an engagement ring or lost gemstones in a family heirloom.
In most cases, it is one of the secondary accent stones that requires replacing. This is most often caused when a ring or a bracelet is continually bumped until the prongs are worn out. During this time stones loosen as prongs become thin and are eroded. When this occurs, our jewelers will assess the wear or damage and prescribe the necessary jewelry repair needed on the item. Once they make their diagnosis, they will show you stones that match others in your piece and provide you with a repair and stone replacement quote.
Since we have thousands of carats of loose replacement stones in our shop, there is a good chance that the stone that you need is in house. If the gemstone needed is not in our collection our stone buyers will source the stone replacement that meets your approval. Because of our background in jewelry manufacturing we have access to a greater variety of loose gemstones than traditional jewelers.
Once you have selected the stone replacement of choice, our master jewelers will reinforce and provide any prong repair needed on your settings. The restored mounting will then be worked on by our jewelers who specialize in stone setting. All stone replacement work is done at our location by the same creative jewelers that are involved in fine jewelry making process. Our jewelers will do everything possible to provide you with a stone replacement and restore your jewelry to its original condition. See More…