See classic to designer pearl jewelry at Jewelry Designs in Danbury, CT. Visit your local pearl source, featuring freshwater and cultured pearls to Tahitian and South Sea pearls, or design your own custom pearl jewelry with an expert artisan.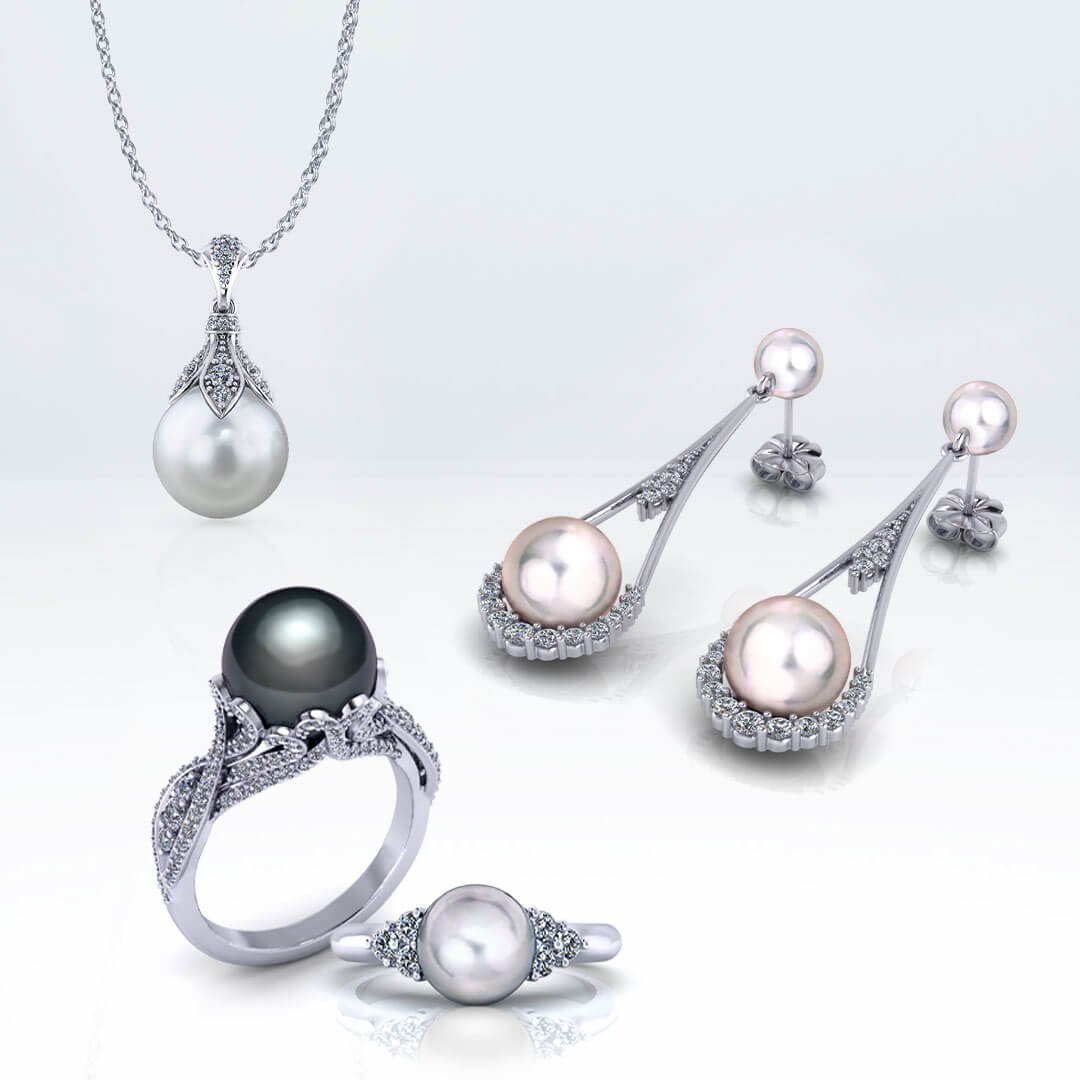 Shop Pearl Jewelry
Our online selection is just a sample of all the types of pearl jewelry and styles possibilities.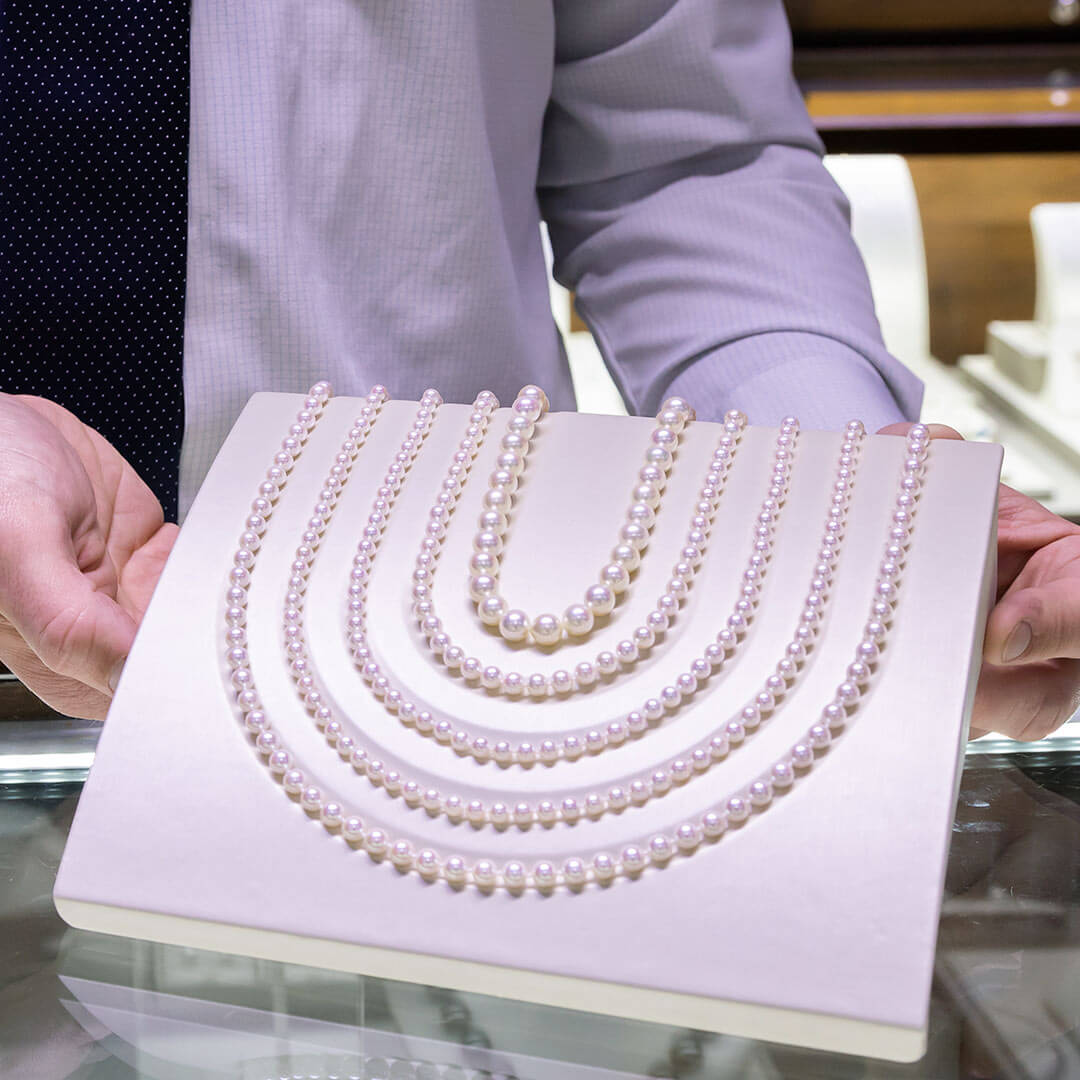 Visit Our Pearl Source
Stop by our Danbury, CT showroom to see black and white pearls, to pink pearls, and more of every variety.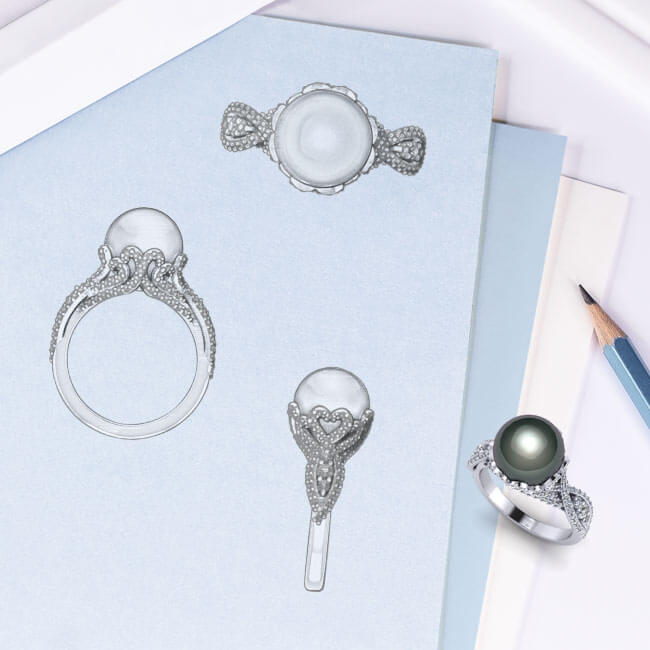 Which Type of Real Pearls Should You Choose?
Pearl jewelry is always an excellent choice. You would be hard pressed to find a piece that features pearls that isn't a beautiful work of art on its own. Pearl sets are very common, as pairing stud pearls with a pearl necklace is a classic look. An important detail to consider is if you'll want white pearls or colored pearls for your jewelry. Most people may think of the classic milky white when it comes to this gem, but pearls come in a vast variety of colors, with pink pearls being one of the most rare – and highly sought after- variety.
That variety extends to where and how a pearl is created too. You may have heard of natural and cultured pearls, and the distinction is simple enough. Cultured pearls are created with a bit of human intervention while natural pearls grow entirely without interference. There are also categories of cultured pearls: Akoya, Tahitian, and South Sea are terms you'll find often. Akoya pearls are renowned for their incredible luster and being perfectly round – and have been worn by notable people like Princess Diana, Jackie Kennedy, and Oprah. Tahitian pearls are also referred to as Black pearls, those need little introduction! Tahitian Pearl jewelry is know for its large size and color spectrum. Similar in size are South Sea Pearls, which are larger white pearls considered to be more valuable than others for their unique luster and thick nacre.
Explore Pearl Jewelry

Why Jewelry Designs is Your American Pearl Source
Just like any gemstone, pearls are a complex detail that can amount to a fantastic centerpiece to your jewelry. That's why it's important that Jewelry Designs' is your American pearl source with a variety of options and experts who know the difference. It's our goal to take the complex world of gems and make the customization and buying process simple, whether its pearl jewelry for wedding or a sweet sixteen. We want to educate you so that you can be confident when you buy pearls that it is the pearl jewelry set you are looking for.
Visit Our Jewelry Store