Prong Repair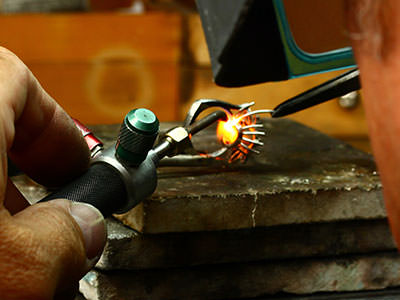 Hopefully you are reading this article about prong repair out of curiosity or as a preventative measure and not because you experienced that sinking feeling when you looked down at your ring and noticed a stone was missing.
Every day, countless people discover missing stones in jewelry. A feeling of panic, followed by frantic searching and grazing ensues. Many hours are spent retracing steps in an attempt to search the places where a stone may have fallen out. In some cases, lost stones are small and inexpensive. In others, the loss can be as significant as a center stone in a diamond engagement ring or an heirloom passed on by a loved one. Whatever the stone's value, in most cases the loss is avoidable.
Over time, precious metals erode. The constant scuffing against harder surfaces ultimately leads to the thinning of the prongs and channels that secure gemstones. Then one day, while the car is squawking for you to clip the seat belt, you reach behind you to grab it, oblivious to the prong that has hooked on the upholstery as you rip it forward. While you're driving merrily down the highway, a diamond slowly jiggles free from the ring.
Now that we have completely terrified you, you need to know that there is a solution. Visit our Jewelry Designs facility and let a jewelry expert inspect your treasures to detect any detrimental wear that may be occurring. This service includes free jewelry cleaning and diagnosis of any prong repair and maintenance necessary to keep jewelry healthy. If prong repair or rebuilding channels are needed, our expert jewelers will provide the solution.
Types of Prong Repair
How prongs will be repaired depends on the extent of damage to the setting. If lower portion of the prong is heavy, it may be possible to "retip" or simply add metal to them. Because the process requires heat, the jeweler will usually remove the stone from the setting and weld or solder fresh gold or platinum to the area of concern. Depending on the sensitivity of surrounding stones and materials, this process will be done with either by torch or as laser jewelry repairs. Once enough new metal is added, the new prong will be shaped, polished, and the stone setting will be completed by our jewelers.
In most situations, when prongs have worn out, it is recommended to replace the component in your jewelry known as the head or prong system. This carriage is often a separate component that was added to support a stone. The advantage of replacing the entire setting is that you have new fresh metal to support the precious gem. When a head is replaced we will first remove the stone and then release the existing setting from the item with a torch or by cutting it free. After fashioning a new setting in the desired metal, our jewelers will solder or weld it in position prior before resetting the stone.
For prong repair work on valuable engagement rings and precious diamond jewelry, we may suggest that you change to platinum prongs or heads to upgrade the durability of your item. The durability of platinum is well known. Although it's softer than white gold, its malleability enables it to many years of wear. Platinum prongs can shift or bend during regular use; however its resistance to erosion, cracking, and fatigue make up for the occasional need to realign the prongs.
Although the replacement of a head is more expensive than rebuilding the prongs, it is the safest way to insure that stones are not lost. Usually, the gemstone in a ring is well worth the investment to protect them.
At Jewelry Designs, all prong repair work is done on site at our location in Danbury Ct. by our experienced master jewelers.