Handmade from 18 kt. white gold, our jewelers created this Emerald Cut Green Tourmaline ring. The depth and color of this magnificent gem has to be seen in person to be truly appreciated. Accompanied by a matched pair of princess cut diamonds totaling .92ct, the gemstone combination spans the entire finger, vibrant with color.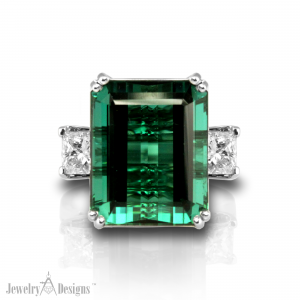 Designing the Green Tourmaline Ring
The concept of designing a Green Tourmaline Ring may seem trivial until one realizes the process. There are many ways to create a piece of jewelry, however few have reached the status of this handmade status of this elegant ring.
As with most of our jewelry designing the concept starts with a theme. In this case the large vibrant green tourmaline had to be showcased in a way that displayed the stone in a minimalistic way with provisions to accommodate durability to ensure long term wear.
It became apparent that a handmade trellis style setting pitched at just the right angles would allow the stones appear suspended above the finger. We then designed the ring shank with a graceful bridged arc to maintain the delicate balance with our large gemstone trio.
Making the Green Tourmaline Ring
Making the green tourmaline ring by hand adds prestige to the gems. In order for a piece of fine jewelry to be considered "Handmade", the jeweler must use only tools that are guided by hand.
The first step in the development of our design was to melt pure gold with other alloys to create a bar of 18 kt. white gold. The gold bar was then manually rolled through a mill to reduce the size of the stock to manageable shapes.
These segments of 18 karat where then hammered filed and forged into wires and sheets. If you look at the through view of the ring you can imagine that the bridged shank was pierced from 2 pieces of gold sheet. The prongs where formed from wires, and the undercarriage of the center gemstone was cut from plate. It all sounds easy however the precision detail seen in jewelry of this caliber requires master jewelers with old world talents and a whole lot of patience.
Once all of the white gold components are completed, they are welded and soldered together with steady hands. The finished model is then polished and the beautiful stones are manually seated into the prongs that are tooled to accomadate the pitch of each stone. The prongs are then shaped into position to secure the stones for a lifetime of wear.
Handmade jewelry of this caliber will always have prestige and provenance.