This detailed engagement ring is reminiscent of works from the early 1920's Art Deco period. With a delicate pattern along the lower shank of the ring and petite eyelets bead set with glistening diamonds, this vintage engagement style captures an era when ornate fashion was the statement of the day.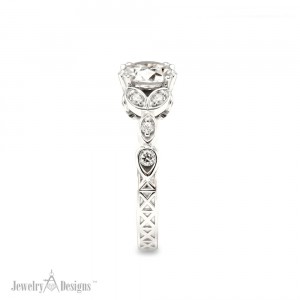 Our jewelers designed this ring with extreme detail while maintaining a delicate and modest profile. The essence of the 20's combined with a contemporary flair is evident in our artisan's creation. The center diamond is presented in an eight prong setting which rises through a detailed scrolling under bezel. The tiered bridge work on the side of our setting lends a lofty feel to the ornamental design. The combination of tasteful design and beautiful diamonds makes this ring a bit magical to those whom love the period.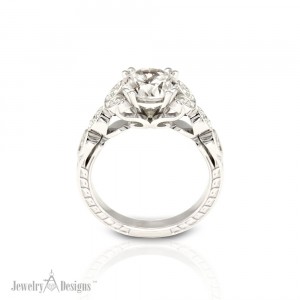 Detailed engagement rings like this one are created daily in our shop in Connecticut by our team of master jewelers. Our skilled jewelers are artistic, diverse and prolific in their styling. Our gallery features thousands of creations by our jewelers ranging from traditional to outrageous, crafted from gold, platinum, diamonds, and precious stones.