No detail was spared in designing this Gemstone Ring. Out performing all of the other gemstones in the  parcel, this gleaming 5 ct. round Green Tourmaline easily appeared as the pedigree of the lot. When our designers first saw this magnificent Tourmaline, they became inspired to create a ring that would live up to the beauty of the gem. The vivid vibrant color of this tourmaline dictated that it be contrasted with a brilliant white diamonds to frame its beauty.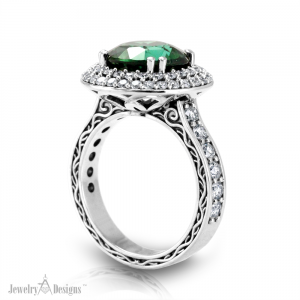 From the top view of the ring it would appear that this luscious green tourmaline is simply surrounded by diamonds. By viewing the ring from different angles and the reverse side, a whole new story is revealed. The underside of this gemstone ring is garnished with a delicate lattice under bezel and a scrolling floral vine that encircle the rings edge.
The telltale signs of fine jewelry are unexposed details that are as elaborate as those that are in clear view. As is the case with many of the finer things in life, the finishing touch in high caliber jewelry is in hidden details.