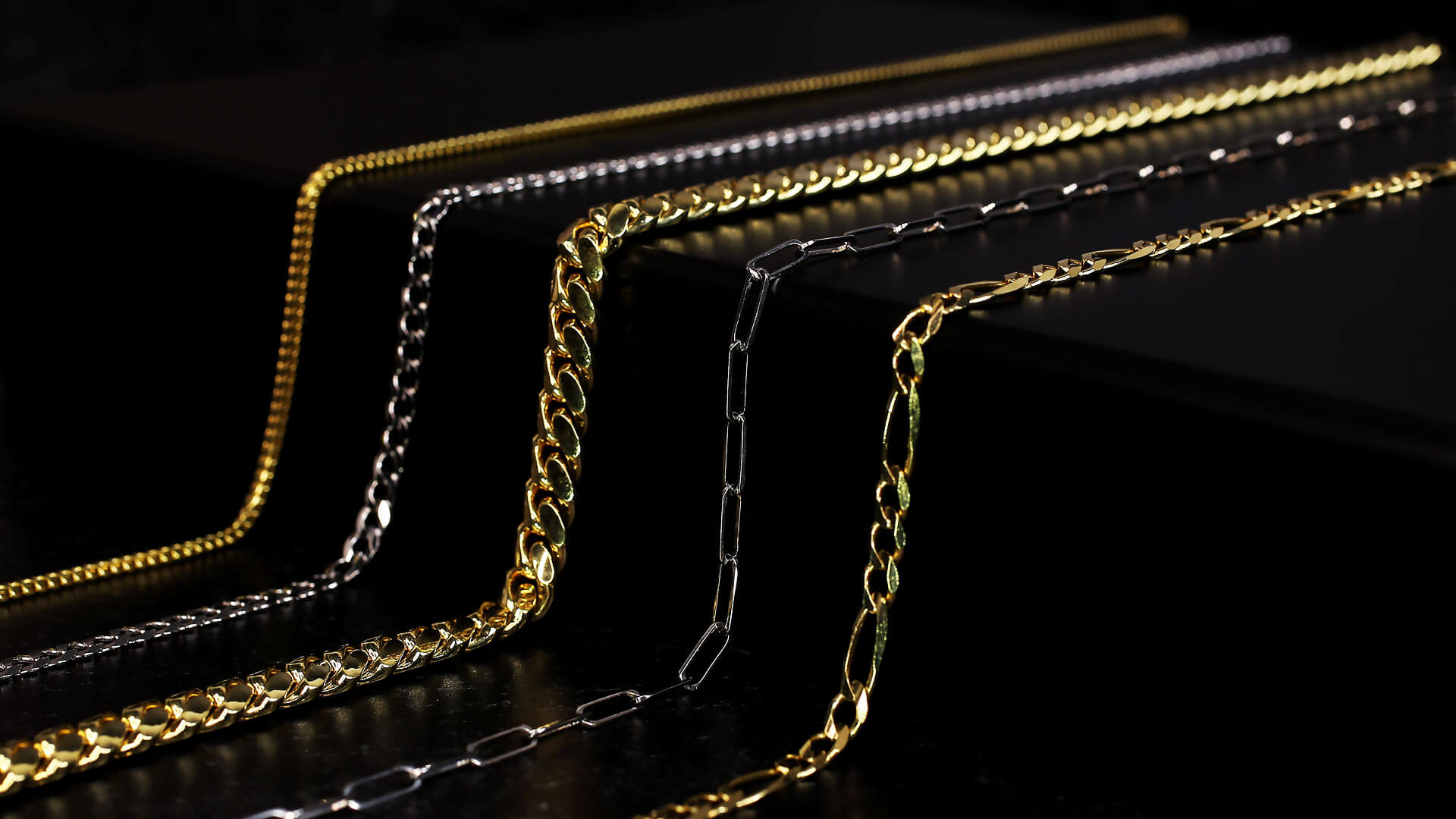 It may seem like an easy question on the surface, but the question of what type of chain is the best for your pendant can have many answers that aren't entirely clear at a first or even second glance. There are a variety of factors that you should consider when thinking about your chain. First and foremost is the focus of the whole piece: the pendant itself and how you want to present it. Do you want to display the pendant higher up on your neck? Or lower and more standout on your person. What's the difference between a rope chain, paperclip chain, figaro chain, and a Cuban link chain? Don't forget that the size of the pendant is also very important in knowing what kind of chain would fit you best.
The once simple question suddenly turns into a lot more to consider! Fortunately, we've been helping people sort out all of their answers for decades and are more than ready to help you too. Once you know where on your person you want your pendant displayed, then we can get to work figuring out the exact length that your chain will need to be to satisfy your wants. 16, 18, 20, 22, and 24 are traditional lengths, but we wouldn't be one of the most trusted and popular workshops in the area if we stuck to what was traditional. You are not restricted to those specific lengths or buying a chain right off the shelf. We have become well accustomed to chain lengths that are not ordinary. In some cases, you may choose a 17, 19, or 21 inch length – and we will gladly be able to make that happen for you.
When it comes down to it, figuring out what type of chain is the best fit for your pendant is much more complicated than just what looks best – even though that's very important too. We believe that it is very important to see, in person, how your chain and pendant look when worn. This is the best way to see if you really like the look and style, rather than trying to guess based off of pictures online. Think of your pendant chain purchase like buying a dress or a suit. You can browse an online selection to find the color and style you like; most times, you can also find sizes listed. However, you can not truly be sure it's right for you until you try it on – which is a risk that comes with all online shopping – including chains. This is why we strongly recommend that you visit our showroom in person to see exactly how your pendant chain will look. You will also have the added benefit of the professional advice of our expert designers, who can answer any questions as well as address concerns you may have before you buy.
The best way to figure out what type of chain is the best for your pendant is to explore all the options in our vast selection. You may have an idea of what you want, or you may be just starting your exploration. No matter the case, we will offer you the best shopping experience, as well as the highest quality selection for your pendant chain. Your options are virtually limitless at Jewelry Designs.