Sapphires and Baguettes
If you like Sapphires and Baguettes you must see this fascinating link bracelet and hoop earring design.
This magnificent sapphire bracelet earring set is simple and clean in design yet the dominance of the gemstones makes this set a dynamic combination that will grab all eyes in the room.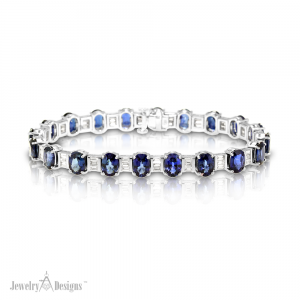 Create a Sapphire Ensemble
Our client wanted us to create a sapphire ensemble. She desired a bracelet and hoop earring combination and was attracted to the look of baguettes and sapphires. This led us to a combinations of stones consisting of trios of baguettes set parallel to beautiful oval sapphires.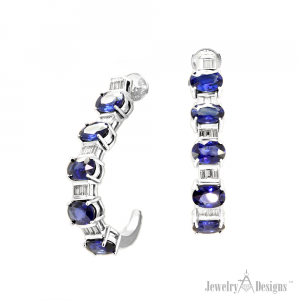 The challenge would soon become finding 34 carats of matching fine sapphires. After many months of searching we pieced together an amazing suite of matched stones in a rich cobalt blue to create our project. The Set was created from 18 karat white gold using 34.09 ct  of sapphire and 2.71 ct of fine white diamonds.The bracelet is a link design and our artisans fashioned the earrings in a  "J hoop" formation allowing them to dangle from her ears.