Custom Rings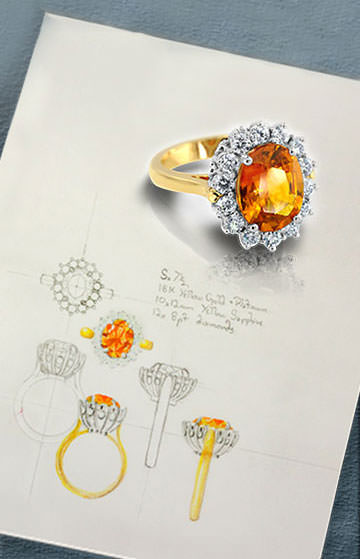 Custom rings are undoubtedly the most popular type of customized jewelry created by our artisans. It seems fitting since rings are the one item of jewelry that can be most enjoyed by the wearer. Unlike jewelry worn on our ears or neck, rings are always within plain view as we wear them.
Combine the personal enjoyment with the sentimental and symbolic commitment they represent, it is easy to understand the popularity of rings. Perhaps the best examples of this are rings created for matrimony. Of all the sentimental jewelry created by our artisans, custom wedding rings and custom engagement rings remain the most symbolic. Each one tailored to the wearers needs, and designed to be worn for a lifetime before passed on for generations.
Most custom rings are created for clients who had no intention of designing a ring in the first place. Many found themselves discouraged as they discovered the rings they liked while shopping possessed characteristics, traits, or stones that did not match their lifestyle. Recognizing this, our designers assist them to identify the elements of design they desire and eliminate those they do not. This simple organization of thoughts by a trained and objective third party helps people develop confidence in their own styling. Once identified, the sought after elements of design, shapes, color, and gems, are used by our jewelry designers to create a custom ring that is better suited to them than any in the marketplace.
We also create custom rings for those who have specific themes or ideas that inspire them. These ideas can range from something as simple as the use of an initial or symbol to elaborate drawings created by architects, artists, and engineers. For those who are inspired to design their own custom ring, we explore the logistics and feasibility of jewelry making with them before transforming their dreams into a custom ring.