Jewelry Repair
Servicing & Repairing Jewelry In Our Community For Over 40 Years
Repair Services Available
All jewelry repair is performed in-house at Jewelry Designs by our team of model makers, bench jewelers, stone setters, and master craftsmen. From a cracked ring to a bent or broken prong, our shop will inspect and diagnose the best available options to ensure your jewelry can be worn safely. While standard repairs are completed within a week, ask your consultant about our Express Same Day Service if that is important to you.
If your precious stones or diamonds have been lost or damaged, Jewelry Designs carries most of these replacements on-site, and a stone setter on standby. If the gem you are looking for is more unique, our shop has an abundant number of resources from which we can acquire the perfect replacement. In some instances, we may have a stone custom-cut and fitted to your jewelry. Our jewelers will always check on the integrity of the prongs, channels, or any other metal holding your stones in place. See More…
While Jewelry Designs can re-make almost any style from scratch, some antique and precious heirlooms are so sentimental that you may consider completely restoring them to their original state. Jewelry Restoration is for items that need more than that of routine repair. This challenging and rewarding task is preformed in-house by one of our master jewelry artisans. See More…
Visit Jewelry Designs for a free jewelry inspection and cleaning. Preforming regular check-ups will help to ensure your jewelry is safe to wear. A consultant will check all your stones and prongs are secure before cleaning. If you would like them to inspect your items further, they will notify you of potential dangers to watch out for or future repairs to consider. This preventative measure is recommended every 3 to 6 months if possible, to help keep stones from falling out, clasps from loosening, and much more.
Why Repair With Jewelry Designs?
There are few jewelers more qualified to execute your jewelry repair than the actual craftsman who can create such treasures from scratch. With hundreds of years of combined experience, our master jewelers have encountered nearly every jewelry repair scenario imaginable.
If our talented team of stone setters, model makers, gemologist, and bench jewelers are not enough to convince you with all of their experience, our shop, procedures, and facility should. A unique combination of old world craftsmanship combined with state of the art technology makes it possible for our team to execute traditional jewelry repair, laser jewelry repair, and exotic jewelry restoration.
Our consultants can help to diagnose your jewelry repair needs and explain what preventative measures to take for you to avoid future damage or loss of such precious heirlooms. Our trusted team of jewelers has been a leader in jewelry repair and stone setting since Jewelry Designs was first founded in 1980.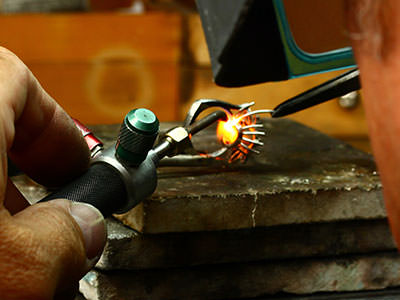 All jewelry repairs are done in-house by skilled artisans under the direction of the founders and owners of Jewelry Designs. With most of our staff having between 10 to 40 years of individual experience, and averaging a decade-and-a-half of working on Jewelry Designs' team, you can be confident that your jewelry is in good hands.
How Does Jewelry Fatigue?
With decades of experience repairing jewelry, the one thing that can be concluded is that precious metal will fatigue or erode over time. "Erosion" takes place when precious metals rub against equal or harder surfaces. Constant contact with counter tops, stone, or even other jewelry will slowly wear away gold or platinum settings, weakening hinges, joints, prongs and clasps.
"Metal fatigue" takes place when gold or platinum is stressed by constant knocking or bending. The easiest way to envision this is to imagine a coat hanger being bent back and forth several times until it breaks. The impact of hitting a ring on a doorknob, or the constant depression of your bracelets spring clasp or latch, slowly contributes to fatigue.
Once metal fatigue or erosion occurs, latches, clasps, prongs and links are prone to breaking, and our jewelry experts will prescribe the recommended procedures necessary to repair such damaged items.
Prolong The Life Of Your Jewelry
The most common jewelry repairs are related to worn parts or prongs. In many cases a simple prong repair can avoid having to completely replace an engagement center stone, or the loss of additional sentimental materials. Another common service need is chain repair. The links that make up a gold chain are in constant motion, wearing against one another, and making it susceptible to breakage which could lead to the loss of your pendant. Chains, along with bracelets and pins, also have jewelry clasps, which are often lost or damaged over time and need repair or replacement.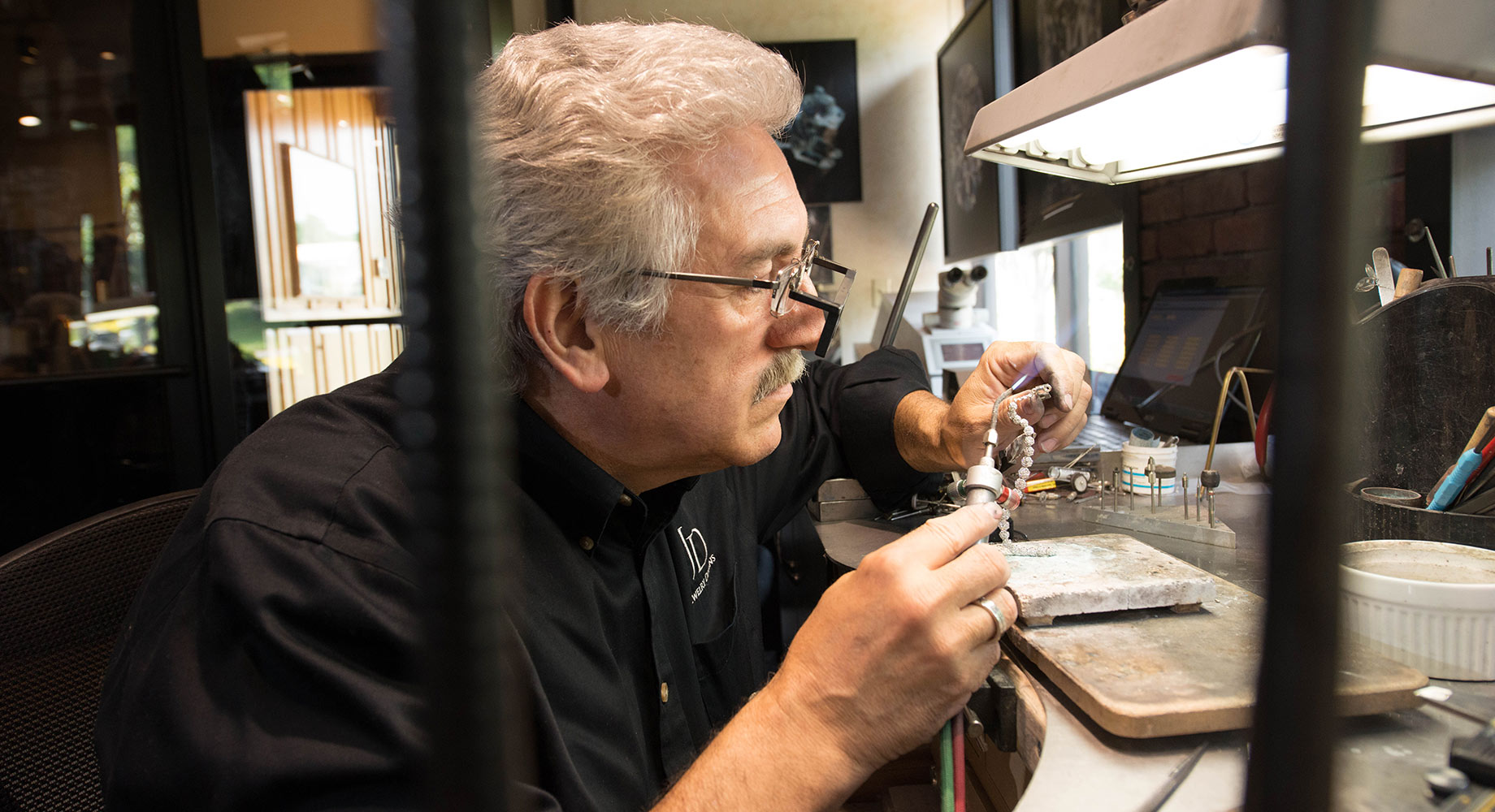 Repairing necklaces is not limited to the soldering of precious metals. Long before the use of chains and clasps existed, beads and baubles where strung around the neck from string or cord. Still in use today, most of our work on beaded necklaces relate to pearl restringing or the stringing of semi-precious stone beads.
From routine ring repair and bracelet repair, to elaborate vintage jewelry restoration, our jewelers have the technical skills, experience, and equipment necessary to provide competent solutions.